Melrose Place was a popular television soap opera that aired in the 1990's. Actress Heather Locklear was one of it's primary cast members.
The Danger Girls were watching it while aboard the Danger Yacht after rescuing Abbey Chase in Costa Rica.
Behind the scenes
Edit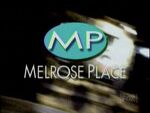 Melrose Place was an actual TV show at the time Danger Girl 1 was published. Artist J. Scott Campbell drew Heather Locklear on the TV screen in the comic panel.
Appearance
Edit