Danger Girl #2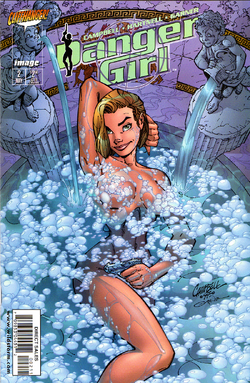 Danger Girl #2 marks the first appearance of Johnny Barracuda, who would turn out to be a main character in the world of Danger Girl. It was a 32 page full color book released in May 1998 that continued the story of Abbey Chase's recruitment into the team.
The car chase continues... Just outside of Paris, Abbey Chase is being shot at by helicopters from above. They guaranteed The Peach's escape. With the use of the gadget-filled Porsche Boxster, Abbey single-handedly dispatches both helicopters. After all the commotion dies down, Abbey and Sydney Savage are picked up by a passer-by calling himself "Jacques" (who happens to be Agent Zero in disguise). He willingly takes the Danger Girls to their destination where they are to rendezvous with Natalia Kassle.
During that time, Natalia relays the mission update back to Deuce on the Danger Yacht. Using information fed to him by Duncan, Deuce sends the team to a soiree that The Peach's aquaintances are having in Switzerland.
The Soiree
Edit

Abbey and Sydney are sent ahead to Switzerland where they meet up with Danger Girl ally Johnny Barracuda. They discuss the plan and their aliases, then head out to the party.
While at the mansion, Abbey is able to make her way to The Peach's private room, seducing the guard in order to get through. There, she finds the ancient shield they were originally after. But with only a few seconds warning, The Peach happens to walk in so Abbey jumps into the hot tub to act as a "gift" for him.
Appearances
Edit
Characters
Edit
Locations
Edit
Vehicles and vessels
Edit
Miscellanea
Edit
Pop culture references
Edit
Cover gallery
Edit
Community content is available under
CC-BY-SA
unless otherwise noted.